Company Information
Our Company Profile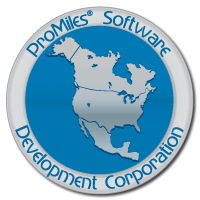 ProMiles Software Development Corporation (PSDC), based in Bridge City, Texas, formerly part of Road Legal, Inc. (Road Legal), makers of ProMiles XF Mileage Guide, ProMiles Fuel Tax, ProMiles Fuel Management, TruckMiles and a comprehensive suite of Online Applications was founded in the early 1980's by a unique combination of professional programmers, tax auditors, ICC practitioners and several truck drivers. The result was a great team of specialists that are unparalleled in their fields. The staff of PSDC saw a need to take the hassle out of managing many facets of a trucking company.
As a result of this long awaited need, PSDC has developed a fast, easy to use and cost effective mileage program for computer use which renders interstate and intrastate mileages. With the enormous amount of deregulation now in effect, PSDC simplifies computing rates competitively with assurance of accuracy. Keeping pace with the ever changing regulations and highways, this mileage guide and fuel tax program is continuously upgraded and promises to be a much needed line of software for both the independent trucker and large trucking industry alike. PSDC has won a wide following of dedicated clients such as O.O.I.D.A., Fleet One, Hewlett Packard, Petro Chemical, Oregon DOT, Unocal, New World Van Lines, Barnes Trucking, Inc. and over 150 State/ DOT auditors.
ProMiles Mileage Guide, ProMiles Fuel Tax, and ProMiles Fuel Management "Give You More Miles For Your Money" with options that are unparalleled in the industry. Now with Canadian and Mexican miles, ProMiles Mileage Guide offers the largest State/DOT approved highway database in the industry.
Driven By a Quest for Excellence
Simply put, ProMiles outranks its competitors. By keeping the consumer in mind, PSDC will continue to work on and add data to their programs. As always, we welcome any suggestions that could make our systems better. PSDC will always consider the suggestions of consumers in future upgrades. We feel that this commitment will keep us and our customers ahead of the competition. According to David Barnes, President for United Highway Carriers Association, "One look at ProMiles Mileage Guide, and you will be convinced, as I was, that this is the best mileage guide available."
Mission Statement
PSDC seeks to provide the best, most accurate, most up to date mapping, mileage, and routing data to all sectors of the trucking industry using multiple delivery methods and multiple partners with the best possible user interface and to integrate this functionality with as many aspects of the trucking industry as possible including in particular fuel tax reporting, fuel management, and fuel purchase optimization; and to create new products and services to solve trucking industry problems using this functionality.