TruckMiles®

TruckMiles® on CD is cost-effective truck routing, mileage & management software intended to provide owner-operators, company and team drivers a feature rich, easy to use solution.
TruckMiles® on CD is extremely easy to use, and it can save you a bundle of cash! Key features such as address to address street level truck routing, voice assisted Driving Mode, multiple routing methods, expense tracking, reduced Toll Road use, and a Profit Margin Estimator will provide a rapid return on your investment.
"In every town, and every City or State, I feel like I'm a local...because TruckMiles® is next to me!"
M.B. - Alberta Canada

TruckMiles® Standard Feature List:
Turn by turn street level routing
53' Trailers option
The power of the ProMiles Mileage and Routing Guide
Calculates U.S., Canada, and Mexico mileages
Download National Average Fuel Price
Ability to SAVE your trips
Easy, wizard-based interface
Practical truck routing method
Shortest truck routing method
Reduced Toll Road use
Enter purchases as either U.S. or Canadian figures
Driver Expense Tracking
Full color maps with pan/zoom functionality
Calculate distances as either Miles or Kilometers
Integrated Calendar
Multiple stop/location entry (up to 5 locations per trip!)
Calculate driver pay
Rates by empty or loaded miles
Profit margin estimator
GPS "Drive Mode" user interface! Driving Mode option will be available if TruckMiles® detects a GPS unit (available separately)
GPS Routing* and Voice-Assisted Drive Mode are available!
---
TruckMiles® Drive Mode provides the following: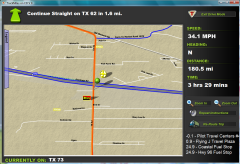 Perspective maps automatically update while driving (as fast as 1-second intervals)
Speech assisted, turn by turn driving directions
Configurable Turn Notification distance
Highly visible turn indicators
Distance to next turn
Next 5 truck stops on route
Total Driving Time
Current Heading
Current Road Name
---
Add-on Accessories:
---
Top